Hôtel Sainte Valière
Arts residency in the south of France
A grand old house, in a small village in the Minervois region, between the Mediterranean Sea and the Black Mountains. Beautiful countryside, ancient stone villages set amongst vines and olive groves, markets, fresh local produce, rivers to swim in. Hôtel Sainte Valière is an arts residency, a place of creative production and cultural exchange, and proposes concerts and events. We are now accepting applications for our 2023 and 2024 residency programs.
Upcoming Events
at the Hôtel Sainte Valière
Jeudi 15 juin
Apéro and exhibition of the paintings of Adonna Ebrahimi, artist in residence, 18h.
Jeudi 22 juin
Apéro
Jeudi 29 juin
Last apéro before summer!
Artists for the month of May 2023
Jake Moss
1 – 29 May 2023
Jake Moss is an Australian artist, writer and filmmaker who has independently produced multiple solo exhibitions, plays, films and books.
Patrick Bolt
1 – 29 May 2023
Patrick Bolt is an Indigenous Australian artist based in Brisbane, Australia. He completed his Bachelor in Film in 2021, and was meanwhile involved in many film projects as a writer, director, sound recordist, producer and performer, and stand-up comic. His first book is a collection of essays independently published in November last year. While in Sainte Valiere he aims to complete another book based on travelling to the foreign landscape of southern France, as well as find inspiration for any proceeding stand up shows.
Short Film 'Red Flags' (Writer/Producer):
https://drive.google.com/file/d/1yo4eIi-oDnhzZzNxcT9G-Ki3tr15NJF1/view?usp=sharing
Tom & Martha Klare
1 – 15 May 2023
Martha and Tom Klare come to us from Cave Creek, Arizona USA. Tom is a professional photographer who plans to explore the area around Sainte Valiere capturing photos of the architecture, history and people of the area, as well as give a presentation of his photographs and his technique while in residence. Martha is a painter, and plans to experience Sainte Valière and surrounds with all the senses, documenting colors, shapes, patterns and other "essences" of her experiences as inspiration mainly for her non-representational art.
Lucy Parkinson & Gonzalo Varela
23 April – 5 May 2023
Lucy is an Australian painter and teacher, and Gonzalo is a painter and puppeteer from Argentina, based in Australia. Both aim to spend their time in Sainte Valiere exploring and painting.
https://www.instagram.com/lucy_parkinson_magic_lantern/
https://www.instagram.com/gonzalovarela.artist/
Domnica Radulescu
18 – 30 May 2023
Domnica is a novelist, playwright, theatre critic and theatre director. While in Sainte Valiere she will be working on multiple literary projects, as well as staging her play Les Trois Bonbons aux Jolis Accents, which she wrote while on residency at the Hotel Sainte Valiere in 2019.
http://www.domnicaradulescu.com/
https://en.wikipedia.org/wiki/Domnica_Radulescu
Robyn Adler
7 – 17 May 2023
Robyn is an artist, iconographer, philosopher and psychoanalyst. Her work investigates the conjunction of the image and the economy in the capitalist discourse and seeks away out of biopolitics through the conception of a collective bound only by what she has called a homophonic image. Her art practice currently investigates the notion of the enclosure of the commons; the logic behind terra nullius as associated with the logging of old growth forests; and heretical and anarchic responses to power and authority.
Upcoming availability at the Hôtel Sainte Valière
Spring residencies: 01 May – 30 June 2023
Autumn residencies:  01 September – 13 October 2023
To apply, send a brief description of your project and the dates you would like to attend to Eloise at eloise@hotelsaintevaliere.com.
While our website is being updated, you can find most recent news here:
https://www.instagram.com/hotelsaintevaliere/
Chef in Residence Exchange program
Applications now open for our 2024 Chef in Residence program. Cook up a storm in exchange for a half-price room, access to a car, and plenty of free time.
Find out more about chefs in residence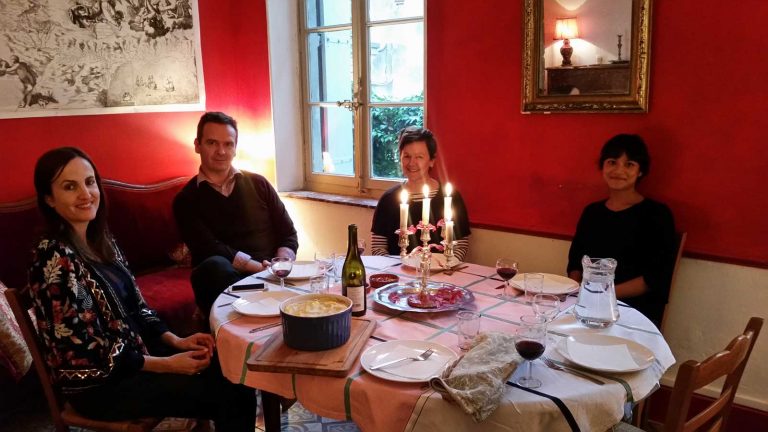 Reviews by artists in residence…
Ruby Marchese – creator of objects – Australia – September 2022
Life at Hôtel Sainte Valière is without exaggeration, the stuff of dreams…
Making art and new friends, stories, music,
Mornings exploring markets, afternoons in rivers,
Days out in the old, rickety, wonderful Peugeot,
Nights dancing in long dresses,
Oysters with crunchy bread (until now, I wouldn't touch an oyster)
Sweet tomatoes from Michel,
Wine that doesn't make me sniffly,
Grapes and conversations that never run out…
It really is that good.
Eloise is an exquisite host; excellent communication, organisation, hospitality and conversation.
Sainte Valière is a quiet and small village, with a friendly community – Eloise organised a wonderful exhibition for the artists at the end of the stay and we were greeted by many locals interested in our work. It's also a short drive from many beautiful surrounding villages.
I hope to return soon, I cannot recommend it enough.
https://scrufflebox.com.au/
Jennifer Tremblay – author, poet, dramaturge – Quebec – September 2019
The big house on rue Cayla is sometimes so quiet.
You can hear a fly buzz.
Figs, peaches and tomatoes lie in a tangle on the table, fixed in the serene air.
Then someone starts to play the piano.
Or the guitar.
Someone has a good idea.
Writes a verse, a phrase, a paragraph.
Someone grabs a paintbrush, changes the world in one perfect stroke.
The air vibrates with joy.
We are here for this.
To exist as an artist before being anything else.
To forget, even, that we sometimes have to think of other things, to be other things.
The dinner bells ring.
We run to the kitchen.
We laugh too loudly.
It is the possibility of exchange that makes us wild.
We are mad with love for everything.
We gorge on fruit, art and friendship.
We do not want to be elsewhere.
We do not want it to end.
I say to our dear Eloise: "You will have to push me out with my suitcase. If not, I will not be able to leave."
It's not a joke.
When night has fallen, I go up to my room with a view on to rue du Docteur Cayla.
And I write this slightly awkward poem.
http://www.leseditionsdelabagnole.com/ficheAuteur.aspx?codeaut=TREM1078
Domnica Radulescu – author, poet, dramaturge – US – September 2019
The Hotel Sainte Valiere Residency is a magical place that inspires and transports. Beyond the breathtaking beauty of the house itself, of the mythical expanses of vineyards, olive and fig trees surrounding it, what really gives this residency its soul, passion and spiritual beauty is the hostess Eloise Caleo who knows how to combine just the right amount of warmth, inventiveness, peacefulness,  delicious meals and scintillating discussions. In the three weeks of my stay I have accomplished more towards my creative projects than I had in the entire previous year and I even created  new writing projects I wasn't even thinking of before I arrived, as they were inspired precisely by this magical place and its delightful hostess. I couldn't be more enthusiastic and grateful.
http://www.domnicaradulescu.com/
Betra Fraval – painter – Australia – May 2019
"Saying farewell to this evocative creative place, Hotel Sainte Valiere in the South of France.
I will miss the sunlight catching on blades of long grass, and listening to them rustle in the wind.
Surrounded by engaging people who  write novels, make beautiful books about colour, plant gardens, cook with heart, and have conversations about difficult and entertaining subjects.
An elegant world where music fills the grand Maison, and we dress for convivial gatherings.
I have been in a state of slowed time, where beautiful things have filled my experience.
It has softened the world.
I couldn't recommend this place more highly."
https://jamesmakingallery.com/artists/betra-fraval/