Hôtel Sainte Valière
Arts residency in the south of France
A grand old house, in a small village amongst the vines of the Minervois, between the Mediterranean Sea and the Black Mountains, not far from the Spanish border. Olive trees, market towns, fresh local produce, beautiful countryside, river swims. Hôtel Sainte Valière is an arts residency, a place of creative production and cultural exchange, and proposes concerts and events. We are currently accepting artist applications for our 2020 residency programs.
Upcoming availability at Hôtel Sainte Valière:
May – June 2020
September – October 2020
Reviews by our 2019 artists…
Jennifer Tremblay – author, poet, dramaturge – Quebec – September 2019
The big house on rue Cayla is sometimes so quiet.
You can hear a fly buzz.
Figs, peaches and tomatoes lie in a tangle on the table, fixed in the serene air.
Then someone starts to play the piano.
Or the guitar.
Someone has a good idea.
Writes a verse, a phrase, a paragraph.
Someone grabs a paintbrush, changes the world in one perfect stroke.
The air vibrates with joy.
We are here for this.
To exist as an artist before being anything else.
To forget, even, that we sometimes have to think of other things, to be other things.
The dinner bells ring
.
We run to the kitchen.
We laugh too loudly.
It is the possibility of exchange that makes us wild.
We are mad with love for everything.
We gorge on fruit, art and friendship.
We do not want to be elsewhere.
We do not want it to end.
I say to our dear Eloise: "You will have to push me out with my suitcase. If not, I will not be able to leave."
It's not a joke.
When night has fallen, I go up to my room with a view on to rue du Docteur Cayla.
And I write this slightly awkward poem.
http://www.leseditionsdelabagnole.com/ficheAuteur.aspx?codeaut=TREM1078
Betra Fraval – painter – Australia – May 2019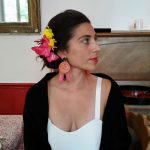 "Saying farewell to this evocative creative place, Hotel Sainte Valiere in the South of France.
I will miss the sunlight catching on blades of long grass, and listening to them rustle in the wind.
Surrounded by engaging people who  write novels, make beautiful books about colour, plant gardens, cook with heart, and have conversations about difficult and entertaining subjects.
An elegant world where music fills the grand Maison, and we dress for convivial gatherings.
I have been in a state of slowed time, where beautiful things have filled my experience.
It has softened the world.
I couldn't recommend this place more highly."
https://jamesmakingallery.com/artists/betra-fraval/
Reviews by our 2018 artists…
Justin Nott – theatre maker – Australia / UK – September 2018
"As an emerging – and independent – Australian artist, the rarest gift is time and space. Time is so integral to the development of an artistic practise. The way the world works now, however, means artists are expected to match the productivity of the greater capitalist machine in order to stay afloat and, even worse, prove their worth. This is in total incongruity with the nature of creativity: imagination, consideration, exploration, experimentation, reflection, and so on.
What Eloise and the rare treasure of Hôtel Sainte Valière offer is time and space. Time according to you. Space according to the stunning, romantic and evocative landscape of the south of France.
The two weeks spent dwelling through the Minervois and the Hôtel were amongst the greatest of my life. This is no exaggeration. I was allowed a delicately balanced fortnight of solitude, challenging conversation, unpressured autonomy, and, of course, the (surely famous) wonderful cooking by Eloise and her mother, Sophie. I was allowed to take my time: to observe light and shadow across cobbled paths or window frames, to read with depth and leisure the stack of novels I'd since neglected, and to scribble away at a new play that had been whirring in around my brain for far too long. I was allowed to just be with my creativity as it was allowed to come.
I somewhat reductively joked over yet another stunning dinner as the sun set over the cooling vineyards that Eloise should be known as Penelope Pitstop. I explained that this was for no other reasons than that her gift of the Hotel was a vital pit stop for artists on the seemingly endless and dangerous highway of the outside world. If there is some place else like Hôtel Sainte Valière, I've yet to find it. A rare – and precious – treasure indeed. I miss it every day."
http://www.justinnott.com/
Ann McGinley – painter – Australia – September 2018
"I think it was Oscar Wilde who said "'To do nothing at all, is the most difficult thing in the world, the most difficult and the most intellectual.'
At Hôtel St Valèere, Eloise and Sophie have managed to create a state of suspension where the resident artist is freed from quotidian thoughts and concern. Time moves slowly in this small, historic village. As the church bell chimed the hours, I had abundant time to consider, delve and contemplate my art practice. This is something that is so valuable to the progression of creative thought but unfortunately increasingly harder to experience.
Eloise also acts as an effective conduit to the Languedoc environs and community whether this is an art class at the town hall, music at nearby restaurant, a swim in the river, or even an overnight trip to Arles. Or the more difficult pursuit of doing nothing.
The Hotel itself is welcoming. The rooms are spacious and there is abundant studio space and light. Through the open windows, while working, I could sense village life ­ locals walking to the épicerie for their croissants, a coffee and a gossip; cars on their way to the neighbouring villages of Ginestas or Paraza; or tractors rumbling to and from the surrounding vineyards. The large kitchen offered respite on hot days, a place to eat breakfast or lunch or prepare a much needed coffee; but more importantly the origin of many delicious meals prepared by Sophie or Eloise. Equally respite could be had in the library on the top floor with views of the surrounding hills or in the magenta downstairs salon. In the evening after a profitable day of idling, working or exploring the countryside by bike or car, the terrace was the place for sharing conversation, food and the region's wonderful wines.
I hope I again have the opportunity to experience such creative idleness."
http://www.annmcginley.net/
Marie Bondeson – artist – & Håkan Obbel – Sweden – October 2018
"We came with the intention to recover from a period of hard artistic work and get new energy. We  found a quiet, friendly, warm and open space. A good place for dreaming, a wonderful working space and a socially great house to stay at. Eloise and Sophie are two really caring people that do everything to make your stay as good as you can wish. The atmosphere in the house and in the village is both relaxing and energising so you can actually get things done. Thank you both for a rich experience."
http://www.mariebondeson.se/
Katerina Knight – textile artist – UK – July 2018
"The space which Eloise has created at Hôtel Sainte Valière for Artists encourages both creative and cultural exchange, through engaging conversation over lovely food and wine amidst a dreamlike landscape. The surroundings offer the perfect balance of inspiration to produce new work whilst allowing undisturbed time for reflection and thinking. Hôtel Sainte Valière is everything you could ask for and more, I will treasure my time spent here."
Margarita Georgiadis – painter – Australia – June 2018
"My residency at Hôtel Sainte Valière fulfilled my every wish and expectation of what the perfect artists residency should be. Uninterrupted, peaceful endlessnessism of time, productivity and wandering through a spectacular landscape that feeds inspiration. A lifetime can be savored in a day here, with the wonderful knowledge that tomorrow will bring yet another lifetime of continuing magical experiences."