Residencies
There are two types of residency at the Hôtel Sainte Valière: the artist in residence program for one to six weeks in May, June, September and October, and a musicians in residence program, a shorter residency available throughout the summer months.
Artists in residence
Hôtel Sainte Valière is available to artists in May, June, September and October. We invite artists of various disciplines to spend some time away from your busy lives, in a remarkable setting, peaceful and conducive to work. 
The house offers its residents large luminous rooms with dedicated workspaces, and an atmosphere outside of time. There are bicycles for your use, as well as a Peugeot 205 automatic car. You can self-cater or we can cook for you, or a bit of both. No outcomes are required, but we will happily organise events (readings /exhibitions/ concerts) to showcase your work.
Musicians in residence
Our musicians in residence program is an invitation to touring musicians to stop by and play at the Hôtel Sainte Valière. We offer, depending on the availability of rooms and the size of your band, up to three nights free accommodation in return for one live performance.
 More on musicians in residence
Residencies 2023
Bernard Caleo & Susan Bamford Caleo
1 – 9 June 2023
Bernard is a comics-maker from Melbourne, Australia, and Susan is a Voice and Body Awareness, singing and vocal coach as well as a singer and an actor.
https://susanbamfordcaleo.com/
https://www.wheelercentre.com/people/bernard-caleo/
https://www.cardigancomics.com/
Adonna Ebrahimi
1 – 22 June 2023
Adonna is a painter from Cincinnati, living in California, who is passionate about flowers:
https://www.artistrybyadonna.com/
Ellie Cooper Lynch
14 – 30 June 2023
Ellie is a writer and painter living in Los Angeles, California:
https://www.elliecooperlynch.com/
Linda Studena & Victor Griss
11 – 29 June 2023
Linda's art practice is framed by autoethnographic enquiry informed by a feminist, migrant (Czech/Australian) experience. Aligned with, and informing this position, is a long-standing practice working with neurodiverse artists through art making initiatives and experiences. She works within an expanded practice utilising traditional, sculptural and digital methods of art making, and has a strong interest in personal and public archives, public art and the socio-political dimensions of public space. While in Sainte Valiere Linda aims to produce a series of drawings and photographs that respond to time and place through iterative processes.
Victor Griss is Gallery Curator at the Counihan Gallery in Brunswick, Melbourne.
Artists in May 2023
Jake Moss
1 – 29 May 2023
Jake Moss is an Australian artist, writer and filmmaker who has independently produced multiple solo exhibitions, plays, films and books.
Patrick Bolt
1 – 29 May 2023
Patrick Bolt is an Indigenous Australian artist based in Brisbane, Australia. He completed his Bachelor in Film in 2021, and was meanwhile involved in many film projects as a writer, director, sound recordist, producer and performer, and stand-up comic. His first book is a collection of essays independently published in November last year. While in Sainte Valiere he aims to complete another book based on travelling to the foreign landscape of southern France, as well as find inspiration for any proceeding stand up shows.
Short Film 'Red Flags' (Writer/Producer):
https://drive.google.com/file/d/1yo4eIi-oDnhzZzNxcT9G-Ki3tr15NJF1/view?usp=sharing
Tom & Martha Klare
1 – 15 May 2023
Martha and Tom Klare come to us from Cave Creek, Arizona USA. Tom is a professional photographer who plans to explore the area around Sainte Valiere capturing photos of the architecture, history and people of the area, as well as give a presentation of his photographs and his technique while in residence. Martha is a painter, and plans to experience Sainte Valière and surrounds with all the senses, documenting colors, shapes, patterns and other "essences" of her experiences as inspiration mainly for her non-representational art.
Lucy Parkinson & Gonzalo Varela
23 April – 5 May 2023
Lucy is an Australian painter and teacher, and Gonzalo is a painter and puppeteer from Argentina, based in Australia. Both aim to spend their time in Sainte Valiere exploring and painting.
https://www.instagram.com/lucy_parkinson_magic_lantern/
https://www.instagram.com/gonzalovarela.artist/
Domnica Radulescu
18 – 30 May 2023
Domnica is a novelist, playwright, theatre critic and theatre director. While in Sainte Valiere she will be working on multiple literary projects, as well as staging her play Les Trois Bonbons aux Jolis Accents, which she wrote while on residency at the Hotel Sainte Valiere in 2019.
http://www.domnicaradulescu.com/
https://en.wikipedia.org/wiki/Domnica_Radulescu
Robyn Adler
7 – 17 May 2023
Robyn is an artist, iconographer, philosopher and psychoanalyst. Her work investigates the conjunction of the image and the economy in the capitalist discourse and seeks away out of biopolitics through the conception of a collective bound only by what she has called a homophonic image. Her art practice currently investigates the notion of the enclosure of the commons; the logic behind terra nullius as associated with the logging of old growth forests; and heretical and anarchic responses to power and authority.
Testimonials
Residencies 2022
Ruby Marchese – creator of objects – Australia – September 2022
Life at Hôtel Sainte Valière is without exaggeration, the stuff of dreams…
Making art and new friends, stories, music,
Mornings exploring markets, afternoons in rivers,
Days out in the old, rickety, wonderful Peugeot,
Nights dancing in long dresses,
Oysters with crunchy bread (until now, I wouldn't touch an oyster)
Sweet tomatoes from Michel,
Wine that doesn't make me sniffly,
Grapes and conversations that never run out…
It really is that good.
Eloise is an exquisite host; excellent communication, organisation, hospitality and conversation.
Sainte Valière is a quiet and small village, with a friendly community – Eloise organised a wonderful exhibition for the artists at the end of the stay and we were greeted by many locals interested in our work. It's also a short drive from many beautiful surrounding villages.
I hope to return soon, I cannot recommend it enough.
https://scrufflebox.com.au/
Jane Rogoyska – author – UK – May 2022
Sainte Valière is a unique proposition as a residency, providing visiting artists with the luxury of solitude to work in with the sociability of drinks and meals with Eloise Caleo's welcoming family and local friends (attendance not compulsory but you won't want to miss Eloise's amazing cooking!). Add in bikes to explore the beautiful surrounding countryside and you have an experience that is creatively fruitful but never feels like hard work.
Residencies 2019
Jennifer Tremblay – author, poet, dramaturge – Quebec – September 2019
The big house on rue Cayla is sometimes so quiet.
You can hear a fly buzz.
Figs, peaches and tomatoes lie in a tangle on the table, fixed in the serene air.
Then someone starts to play the piano.
Or the guitar.
Someone has a good idea.
Writes a verse, a phrase, a paragraph.
Someone grabs a paintbrush, changes the world in one perfect stroke.
The air vibrates with joy.
We are here for this.
To exist as an artist before being anything else.
To forget, even, that we sometimes have to think of other things, to be other things.
The dinner bells ring
.
We run to the kitchen.
We laugh too loudly.
It is the possibility of exchange that makes us wild.
We are mad with love for everything.
We gorge on fruit, art and friendship.
We do not want to be elsewhere.
We do not want it to end.
I say to our dear Eloise: "You will have to push me out with my suitcase. If not, I will not be able to leave."
It's not a joke.
When night has fallen, I go up to my room with a view on to rue du Docteur Cayla.
And I write this slightly awkward poem.
http://www.leseditionsdelabagnole.com/ficheAuteur.aspx?codeaut=TREM1078
Domnica Radulescu – author, poet, dramaturge – US – September 2019
The Hotel Sainte Valiere Residency is a magical place that inspires and transports. Beyond the breathtaking beauty of the house itself, of the mythical expanses of vineyards, olive and fig trees surrounding it, what really gives this residency its soul, passion and spiritual beauty is the hostess Eloise Caleo who knows how to combine just the right amount of warmth, inventiveness, peacefulness,  delicious meals and scintillating discussions. In the three weeks of my stay I have accomplished more towards my creative projects than I had in the entire previous year and I even created  new writing projects I wasn't even thinking of before I arrived, as they were inspired precisely by this magical place and its delightful hostess. I couldn't be more enthusiastic and grateful.
http://www.domnicaradulescu.com/
Mahala Wallace – travel writer – Australia – September 2019
To write about my incredible experience at Hotel Sainte Valiere means to say goodbye, and I'm not quite ready to let go. But nevertheless, here are my thoughts and feelings around the magical place that is Hotel Sainte Valiere.
Hotel Sainte Valiere was a month-long moment that has enriched my life and inspired my writing. Eloise and Sophie (and Cleo, of course!) are the heart and soul of Hotel Sainte Valiere. They have created a haven for writers, artists and musicians to grow, thrive, and challenge themselves. I feel very fortunate for my time at Hotel Sainte Valiere. In fact, I loved it so much, that I am already planning to go back next year. Creatives seeking a residency will not be disappointed at Hotel Sainte Valiere!
https://mahalawallace.com.au/
James Barter – illustrator – Australia – September 2019
I attended Hôtel Sainte Valière in October of 2019, for a two-week residency to focus on my drawing. This time was both productive and exploratory for my practice; but more than these expected outcomes, I was genuinely challenged by my fellow artists, inspired by the landscapes and light, and imbued with a new and fresh creative fervour. Many of the works I produced during this time or which were inspired by it, were a key part of a successful Parisian solo exhibition I held in 2020, and which would have been unlikely had I not had the wonderful experience of the hôtel.
Being my first residency, I had no real expectation of what I would find beyond a sturdy desk in a well-lit room. The rambling build of the hotel was a neoclassical dream of colossal roves and claw-footed beds. Eloise, the owner, was more than welcoming, I felt invited to learn about the history and sense of place, offered both every convenience for a productive visit, and the independence of self-exploration. With my fellow artists and Eloise, four writers, fellow travellers and remarkable women, there was never a dull conversation, and evening where I was not learning or being challenged, or a moment of aesthetic beauty not fully realised. To attempt to describe all the wonderful experiences wouldn't be reasonable, but I would like to thank Eloise and my fellow residents for the experience which, without each of their contributions, could not have been as wonderfully filled with both light and darkness in the most pleasing proportions. I would most certainly recommend to both well-established artists and those still finding their voice.
Steph Francis – writer – Australia – July 2019
I loved the feeling of time slowly down, allowing my thoughts to gently percolate. I loved the toll of the village bell and the changing sound of birds in the garden being the only markers of time.
A spirit of quiet creative industry seems to be accumulating within these walls as each guest passes through. Thank you Eloise and family for the delicious food, and the grace and generosity of your company. My time at Hotel Sainte Valière was as productive as it was restful and I left feeling nourished in all ways.
Thida Eng – painter – France – June 2019
This is not a painting, it's a tale
one among many that are told in this beautiful artist residency
a place where time stops passing by
and vineyards sing all day long
little white lies of ancient mirrors,
and exciting mundanities
Here, even the birds forget to fly
they dance
Claire Marie Collins – visual artist – UK- June 2019
My artist residency at Hotel Sainte Valiere in 2019 was truly a wonderous moment in time and in my creative journey.
Eloise as the host, the Hotel itself and the spiralling circular village of Sainte Valiere create a space in which ones artistic energies can unfurl, expand and find new expressions.
I loved everything about it, my room, the communal gathering for meals, Eloise's questions & reflections, my fellow artistic travellers, the swifts and fields of wheat and of course the light…
I left renewed & profoundly changed by my experiences. Thank you so much.
Stuart Dischell – poet – US – June 2019
I seldom use words like "enchanted" or "magical" to describe my experiences, but my stay at Hotel Ste-Valière is defined by them. The village and landscapes are gorgeous and the house of the artist residency is splendid. My room was one of the most comfortable I have stayed in, and the workspaces throughout the house were more than I could use or ask for. The meals were delicious and very healthy, using local produce—indeed farm to table fresh. Best of all, Eloise, the host was extremely gracious, thoughtful, helpful, and très sympa. If you are an artist, writer, or musician, this is the place for you to be creative and reflective. It worked for me!
Betra Fraval – painter – Australia – May 2019
"Saying farewell to this evocative creative place, Hotel Sainte Valiere in the South of France.
I will miss the sunlight catching on blades of long grass, and listening to them rustle in the wind.
Surrounded by engaging people who  write novels, make beautiful books about colour, plant gardens, cook with heart, and have conversations about difficult and entertaining subjects.
An elegant world where music fills the grand Maison, and we dress for convivial gatherings.
I have been in a state of slowed time, where beautiful things have filled my experience.
It has softened the world.
I couldn't recommend this place more highly."
https://jamesmakingallery.com/artists/betra-fraval/
Danka Milewska – dancer – Poland – May 2019
Imagine you walk. You walk and walk and walk. Imagine you talk to the fields and listen to the mountains who are looking at you from the distance when you sing. And feel that each cell of yours, each inch of your skin and body becomes a Sainte Valière particle after arriving in and being there and eating local food. It happened to me during the somatic excursions I made within Sainte Valière. I have discovered how my nervous system can function. I have experienced the living form of Everyday in Hôtel Sainte Valiere. And also how my writing process is enriched by Sainte Valière experience. It has been wonderful to co-work with other artists too, with Eloise Caleo and Sophie, and meet every single person living there and in the village. The distances are shorter, the hugs wider, the bodies softer like the springtime earth getting warmer and warmer.
How I become a dancer is a title of my research catalogue initiating in and inspired by my Hôtel Sainte Valière.
Anicia & Mathias Kohler – musicians – Switzerland – May 2019
The hotel that is not a hotel is an incredibly special place! You can work in absolute peace here, in the spacious rooms, the salons or the library. You can take a stroll through the lovely village, buy your daily baguette at the small épicerie, and discover the beautiful landscape around Sainte Valière on foot, by bike or by car. You can take part in legendary house parties and meet some very interesting people, and you can spend hours on the terrace, eating amazing food prepared by Eloise and Sophie, who welcome their guests with open arms and lots of charm! We practised and wrote music, ate cheese, drank wine and took care of our children who loved it as well. To all four of us, the two weeks we spent here felt like paradise. Thank you!!!
Residencies 2018
Marie Bondeson – artist – & Håkan Obbel – Sweden – October 2018
"We came with the intention to recover from a period of hard artistic work and get new energy. We  found a quiet, friendly, warm and open space. A good place for dreaming, a wonderful working space and a socially great house to stay at. Eloise and Sophie are two really caring people that do everything to make your stay as good as you can wish. The atmosphere in the house and in the village is both relaxing and energising so you can actually get things done. Thank you both for a rich experience."
http://www.mariebondeson.se/
Gregory Mackay – graphic novelist – Australia – October 2018
"Staying at the Hotel Sainte-Valière was a creative and calming experience. The room was bright and airy, and the village was quiet and interesting. I found it easy to work during the day, and at night the hotel was silent and restful. The narrow streets of the village are contrasted by the surrounding countryside, extending off into the distance. The local area features ruins, streams, canals and other small towns. The food provided was excellent, and there was always interesting conversation among the hosts and residents. I highly recommend the residency to artists and writers interested in a peaceful setting."
http://ggorgg.tumblr.com/
Justin Nott – theatre maker – Australia / UK – September 2018
"As an emerging – and independent – Australian artist, the rarest gift is time and space. Time is so integral to the development of an artistic practise. The way the world works now, however, means artists are expected to match the productivity of the greater capitalist machine in order to stay afloat and, even worse, prove their worth. This is in total incongruity with the nature of creativity: imagination, consideration, exploration, experimentation, reflection, and so on.
What Eloise and the rare treasure of Hôtel Sainte Valière offer is time and space. Time according to you. Space according to the stunning, romantic and evocative landscape of the south of France.
The two weeks spent dwelling through the Minervois and the Hôtel were amongst the greatest of my life. This is no exaggeration. I was allowed a delicately balanced fortnight of solitude, challenging conversation, unpressured autonomy, and, of course, the (surely famous) wonderful cooking by Eloise and her mother, Sophie. I was allowed to take my time: to observe light and shadow across cobbled paths or window frames, to read with depth and leisure the stack of novels I'd since neglected, and to scribble away at a new play that had been whirring in around my brain for far too long. I was allowed to just be with my creativity as it was allowed to come.
I somewhat reductively joked over yet another stunning dinner as the sun set over the cooling vineyards that Eloise should be known as Penelope Pitstop. I explained that this was for no other reasons than that her gift of the Hotel was a vital pit stop for artists on the seemingly endless and dangerous highway of the outside world. If there is some place else like Hôtel Sainte Valière, I've yet to find it. A rare – and precious – treasure indeed. I miss it every day."
http://www.justinnott.com/
Ann McGinley – painter – Australia – September 2018
"I think it was Oscar Wilde who said "'To do nothing at all, is the most difficult thing in the world, the most difficult and the most intellectual.'
At Hôtel St Valèere, Eloise and Sophie have managed to create a state of suspension where the resident artist is freed from quotidian thoughts and concern. Time moves slowly in this small, historic village. As the church bell chimed the hours, I had abundant time to consider, delve and contemplate my art practice. This is something that is so valuable to the progression of creative thought but unfortunately increasingly harder to experience.
Eloise also acts as an effective conduit to the Languedoc environs and community whether this is an art class at the town hall, music at nearby restaurant, a swim in the river, or even an overnight trip to Arles. Or the more difficult pursuit of doing nothing.
The Hotel itself is welcoming. The rooms are spacious and there is abundant studio space and light. Through the open windows, while working, I could sense village life ­ locals walking to the épicerie for their croissants, a coffee and a gossip; cars on their way to the neighbouring villages of Ginestas or Paraza; or tractors rumbling to and from the surrounding vineyards. The large kitchen offered respite on hot days, a place to eat breakfast or lunch or prepare a much needed coffee; but more importantly the origin of many delicious meals prepared by Sophie or Eloise. Equally respite could be had in the library on the top floor with views of the surrounding hills or in the magenta downstairs salon. In the evening after a profitable day of idling, working or exploring the countryside by bike or car, the terrace was the place for sharing conversation, food and the region's wonderful wines.
I hope I again have the opportunity to experience such creative idleness."
http://www.annmcginley.net/
Nikola Hoffmann – painter – Germany – September 2018
"Residency with heart. I was staying (unfortunately only) two weeks at the lovely Hotel Sainte Valière. Arriving in the picturesque small town of Sainte Valière and stepping into the hotel feels like entering into a whole different world. The charm of the 19th century and the landscape make you feel living in another time. But especially the warming welcome and hospitality of Eloise and her family makes you immediately happy and feeling like you're in the right place.
My stay was really special. During the day I was painting downstairs in the atelier with the sun shining through the beautiful windows. As I was very lucky and had the opportunity to also paint in the upper atelier (the other residents were using their room to work) I could benefit from the high windows for painting in the afternoon, when the sun made his way up to the second floor.
In the evening Eloise and her mother Sophie cooked delicious dinner for us which we enjoyed outside on the terrace accompanied with wine and great talks. The community was just great. We had a great connection and did some trips to the other towns together, for which we could use the car that was available for the residents. We also did an overnight stay at Arles. Eloise's mother was so kind to let us stay in her apartment. It was really generous like they were all the time with us. Thank you so much for the wonderful time!"
https://www.instagram.com/_nikosart/
Amber Carne – painter – Australia – September 2018
"Hotel Sainte-Valiere was everything I imagined and more. Set in a peaceful village amidst vineyards with the Black Mountains off in the distance, it is an idyllic location to immerse yourself in your creative project. It's a perfect balance of time alone to think and create and interaction with other residents at meal time or excursions in the local area. Eloise and her family have created something truly special. An authentic cultural and artistic experience that will have you wishing you'd stayed longer."
Dario Vacirca – researcher, art and theatre maker – Australia – September 2018
"Hôtel Sainte Valière is like a dream. And a reality. Mixed together in a timeless space, that affords the ponderer a place to (re)view the world from. The opportunity to travail through the vineyards, on the way to the river, to become lost in the quiet streets, and to share ideas, stories and AMAZING food with other fellow art-revellers – is a priceless and extremely rare gift. Sainte Valière is now lodged in the deep part of my psyche, alongside memories of swimming in remote islands, and making art in extreme conditions in Mexico, one of those cornerstones of my experience where I know I can retreat to whenever I need to be in my focussed art-soul-relational body."
http://dariodariodario.com/
Belle Bassin – visual artist – Australia – September 2018
"In September last year I stayed at Hôtel Sainte Valière,
Arriving in the sleepy town of Sainte Valière that illuminates only for quick moments of bells ringing and croissant purchasing, just to go back to sleep again for the day, I was relieved to see purple thistles and grape vines growing, to be back in a sun-drenched Mediterranean town.
In the old mansion of Hôtel Sainte Valière the ceilings are high and the rooms are spacious, I spent two days deliberating over whether I should work in the cool front room, or the lofty library with views over the town. It was a very complex decision, it took 6 meals on the back porch, a few coffees, 3 glasses of wine, a walk around town, considerations of other dimensions and intentions and exchanges of eye contact to decide, on the inconsequential decision.
Then I moved onto my work where I considered all the options over a series of days, should I work with image 10, or 23, and if I do work with image 23 should it be a sculpture, a drawing, a performance, a video or a read aloud text. Then I eventually did some drawings and had a very nice time.
The air was excellent, Sophie and Eloise were attentive and kind, it was a much needed moment in the year where I had a chance to work in a much more relaxed way.
Thank-you for putting this space together Eloise and Justin. It's a really special place."
http://www.bellebassin.com/
Katerina Knight – textile artist – UK – July 2018
"The space which Eloise has created at Hôtel Sainte Valière for Artists encourages both creative and cultural exchange, through engaging conversation over lovely food and wine amidst a dreamlike landscape. The surroundings offer the perfect balance of inspiration to produce new work whilst allowing undisturbed time for reflection and thinking. Hôtel Sainte Valière is everything you could ask for and more, I will treasure my time spent here."
Rio Walto – musician & theatre-maker – Switzerland – July 2018
"The region around Sainte-Valière is perfect to get lost. Grab a hat, get a bike and explore the magic land of vineyards. Back at Eloise's Hôtel you will find a lovely old, spacious and sometimes mysterious house where you can stare at the ceiling for hours and hours. Thank you Eloise for taking care of us and creating such a lovely residency."
https://www.riowolta.com/
Margarita Georgiadis – painter – Australia – June 2018
"My residency at Hôtel Sainte Valière fulfilled my every wish and expectation of what the perfect artists residency should be. Uninterrupted, peaceful endlessnessism of time, productivity and wandering through a spectacular landscape that feeds inspiration. A lifetime can be savored in a day here, with the wonderful knowledge that tomorrow will bring yet another lifetime of continuing magical experiences."
http://www.margaritageorgiadis.online/
Danny Aviles – illustrator- US- June 2018
"I didn't know what to expect when I arrived to Sainte-Valiere as it was my first residency but the time that I was there was definitely well worth it. Besides being a great place to work, my biggest takeaway will be the relationships that I made during my stay. I really value the conversations with all the people I had the opportunity to meet. The residents, Eloise and the people in the surrounding villages. These are things I will hold onto for as long as I can."
https://www.dannyaviles.com/
https://www.dannyaviles.com/journal/2018/8/2/qui-ne-tente-rien-na-rien
Jade Lillie – arts executive – Australia – June 2018
"Hôtel Sainte-Valière is a peaceful and creative place where friends and artists come together, make new work, share conversations and focus on creative ideas. Eloise has created a very special place for artists that welcomed me to experience this beautiful part of the world whilst writing, walking, sharing meals and great conversation. I highly recommend Hôtel Sainte-Valière as a place to stay and undertake your own project, collaborate on ideas and sit in the beautiful garden whilst enjoying the sunset over the vineyards. It's been such a pleasure."
Adam McCulloch & Emma Sloley – writers – Australia/Mexico – may 2018
"A room of one's own in a beautiful ivy-covered grande dame at the heart of a sleepy village nodding among the vines of the Minervois…this was how the story started for us in the summer of 2018. At the Hôtel Sainte Valière we found a place to write and to dream, where the company was stellar and the atmosphere somehow both tranquil and invigorating. Eloise and Sophie (and visiting chef Mary!) were wonderful and thoughtful hosts, providers of legendary meals and wine, and conversationalists extraordinaire. From cocktail hour by the fireplace in the scarlet-walled salon, to an evening cruise on the Canal du Midi, to a tipsy midnight feast of mushroom bourguignon shared around the kitchen table, the experience was nourishing in every way."
https://emmasloley.net/
http://adammcculloch.info/
Debi Hamilton & David Francis – poets – Australia – May 2018
"Hôtel Sainte-Valière. What magic!  We have just spent two weeks as poets in residence at the Hôtel Sainte-Valière, and we're hoping the enchantment doesn't wear off any time soon.
Imagine a three-storey, 150-year-old house, with large guest rooms and high ceilings.  Add the surrounding village, where the smallness of the streets suggests a looming intimacy which is never quite realised because it's so quiet (apart from the insistent marking of time by the two village church bells); then imagine all the solitary time you might want, seasoned with conversation and excellent food and wine at dinner time with your fellow guests; and picture all this being run by a woman who can whip up a stunning meal, draw you an artistic little map of a walk or drive you might enjoy, and hold you spellbound with her stories—and you still won't have the half of it.
Our fellow guests will not be surprised to hear that we really enjoyed the food, wine and scenery of the area—we made up for many of their cloistered hours at the desk by exploring the surrounding villages and countryside at lunchtime—but they may be surprised to hear that we both managed to achieve a lot more writing than our daily lives at home allow.  And we slept better than we have anywhere else for years.
So, thank you Eloise for making such an experience possible—you have created a very beautiful space for writers both to work and to refill the well."
Nabin Chhetri – poet – Scotland – May 2018
"St. Valiere was fabulous and it gave me the space to write in tranquility. I miss the Salon and the get togethers after dinner. At the end of the day, it is the lovely people who make things memorable. I miss the quiet, palatial room, from where, every day, the birds never failed to sing. The stroll around the vineyard, the wine around the fireplace, and the casual reading inside the room, everything was enigmatic."
https://nabinkchhetri.wordpress.com/
Residencies 2017
Lizzy Sampson- installation artist- Australia – September 2017
"I spent a little under two weeks at Hotel Sainte Valiere to undertake a self-directed arts residency in September 2017. This was my first residency since becoming a parent, and Eloise was so accomodating of my family – arranging everything we needed for our stay. The food prepared by Eloise and Sophie is nothing short of magnificent – and the additional picnics by the river were always delightful. Having a car available to explore the surrounding villages, rivers and mountains was amazingly helpful and made being autonomous during our stay very easy. Sainte Valiere provided a very different sense of place, space and time and each hour of every day seemed to stretch – so that I really achieved a lot of thinking, making, exploring and doing in just 2 weeks. I feel like I just began to scratch the surface of life in a small village and would love to return to explore this further. A very accomodating, comfortable, creative and welcoming place to live and work. Merci Beaucoup."
Antoine Giorgini- film maker- France – September 2017
"Qu'est-ce qu'on est bien ici."
Jens-Martin Eriksen – author, essayist – Denmark – September 2017
"L'Hôtel Sainte Valière is a really great place for everyone who wants peace and quiet to work on their manuscripts. Wonderful spacious rooms in and old doctors house in a small village in the South of France, nice food and homely atmosphere, great wines and countryside to be explored close to Canal du Midi and historical city of Minerve. "
Ida Rödén – illustrator, sculptor – Sweden – September 2017
"When you realize you can do it all – when your kids can be without you a full week, when you manage to convince an art foundation to financially support your adventures, and when you have the best husband that pushes you to follow just that dream – the one of doing it all. Well, that's when you wake up in a spacious room where the sunlight is peeking through big windows revealing the narrow streets of Sainte-Valière. This Artist Residency was just what I needed – fantastic home-cooked food, solitude, car trips, stimulating dinner conversations with the hostesses and the writer in residence (Jens-Martin Eriksen), and the occasional meeting with locals to see what they are up to (to learn from the experts about the fate of the cathars). And, not to forget, time to make art – in this case thorny beetles hidden in thorny plants coloured with the juice from berries and greenery collected during my daily walks outside the village."
http://www.idaroden.com/
« Vast spaces for reverie with superb dimensions befitting Man who seeks. Difficult to match with words the sensation Sainte Valière leaves you with. So instead we will return, with Fabien, and shoot a short film in the style of Rohmer. »
Fabien Gorgeart- film maker- France – July 2017
Jeannine Cook – silverpoint artist – Majorca – May / June 2017
"Hôtel Sainte Valière – from Winegrower's "Folly" to Artists' Residence
Light footsteps flying down the spacious stairway, sunlight flooding through the big windows, laughter and a welcome soon sealed with a glass of wine: my stay at Hôtel Sainte Valière began deliciously.
I soon learned that this gracious house, one of the main homes built in this small hilltop village during the 19th century wealthy heyday of wine culture in the Languedoc Roussillon area of southern France, was originally called a "winegrower's folly". The Cayla family knew how to make a home of gracious proportions, and today's guests at Eloise Caleo's Artist Residency are the lucky beneficiaries (…)
My two-week residency flashed past but it was the prefect place to get down to working really hard. I wanted to complete two big silverpoint drawings for an upcoming exhibition and this was the ideal situation simply to push through and finish them in dogged fashion. My quiet and privacy were respected delightfully.
So many enticing trips, nonetheless beckoned… so many attractions to delight, and all close enough to hand to Sainte Valière that an artist can slip off for a while to change gears from creating to celebrating life in France."
To read Jeannine's full testimonial click here
Macdonald Jones – photo, sculpture, installation artist – USA – June 2017
"Hotel Sainte Valiere is a wonderfully calm & charming residency. There are lovely trails for walking or biking and many beautiful sights and neighboring towns to see and inspire you. The work space and large table by the window are perfect, and the food is excellent!"
Miranda Mills – documentary maker, performer – Australia – June 2017
"Hôtel Sainte Valière is a large welcoming unique artists residence in a small village. Here, I had the opportunity to both enjoy quintessential French country life and have time and space to focus on my particular oeuvre and groove! The environment is quiet and the rooms are elegant spacious and relaxed. Chez Eloise I was encouraged to take time for both reflection upon my own work and recreation. It is close to the Canal du Midi and walking, bike riding or exploring by car in small day trips is a delight.
I visited Minerve a medieval town on the edge of the Black mountain and swam in a crystal clean stream, cooled down in the ocean at the picture perfect ancient seaside fort of Collioure and passed through small villages, vineyards and olive groves that embody the essence of the French experience. I felt nourished by all this and my creativity began to flow again after leaving a very cold Tasmanian winter as I opened out in the beauty of a southern French summer away from the crowds."
Raphael Pintart – journalist and screenwriter- France – June 2017
"I spent a week at Hotel Sainte-Valière and I have rarely been so productive. Was it the calm and beauty of the space? Was it the varied song of birds and of wind in the trees? Or the duck magret prepared by Eloise ? Or could it have been the freshness of the river, the shade of the olive trees, the lines of vines? All of this, undoubtedly. It was a pleasure to rise early, have coffee in the kitchen, return to my big desk and let the words come. To lunch on a sandwich on a corner of the table or to take the time to settle in at the restaurant by the canal at midday. And to reunite, come evening, with my hosts on the terrace to share our stories.
Antoine Giorgini – screenwriter – France– September 2016
"My time in Sainte Valière was very, very good for my inspiration. You can think clearly there, and the almost religious calm pushes you to be creative. If you want to have a break from your work, there are plenty of places to visit, to eat and drink, the surroundings are absolutely magnificent. A charming welcome, the lady of the house is as pleasant as can be, present but not too present, always up for passionate discussions by the fireplace. I came in early September, and came back at the end of the month as I found that one week's work in Sainte Valière was worth two months work at home. L'Hôtel Sainte Valière allowed me unparalleled creative energy and I am counting on returning as soon as I am able."
Helga Griffiths – installation artist – Germany – September 2016
"Hotel Sainte Valière is the ideal place to work quietly.  I enjoyed my daily  routine of walking and thinking and could get lots of new ideas on which I started  working. I felt very much at home and did enjoy my spacious beautiful room as well as the library which is offering an incredible view over the rooftops of the village. I admire Eloise's passion and incredible energy that she puts into making this residency a success"
http://www.helgagriffiths.de/
Frans Peter Valbjørn Knudsen – textile artist – Denmark – September 2016
"A fantastic place, fantastic people. Food is excellent. Peaceful and quiet and plenty of room for thinking and working. I will definitely come back if possible. There is a place in my heart called Hotel Sainte Valière"
"This piece of art has been a diffuse thought in my mind and a quick sketch in my bag for years. Here, in Hotel Sainte Valière, I found the peace and quiet to work on it and put my thoughts into form and material. The piece is a personal story…"
Margie Ulbrick – author – Melbourne – September 2016
"I was fortunate enough to spend one month at Sainte Valiere with Eloise, Cleo and Sophie. They are a beautiful and interesting family and very supportive of all things creative. I loved meeting other residents and sharing some of our experiences of the creative process. The landscape of this beautiful area of Southern France (surrounded by vineyards) is inspiring and to get fully immersed in its climate, colour and light was a treat. There are many lovely walks and it is possible to cycle along the Midi canal and see some of the neighbouring villages. I loved working upstairs in the library where I looked across rooftops and listened to birds of all descriptions as well as the tractors on the fields harvesting the grapes and nearby horses. The views were so picturesque and completely inspirational for my writing. The house itself is spacious and well set up with each room having it's own ensuite and lovely windows opening out to tree tops and the local village. Perhaps best of all, was the energy and space for the creative juices to flow, the time to work uninterrupted and to have meals all prepared so that we could merely show up in the evenings and join each other for some socialising, friendly banter, and delicious French food and wine. A lovely courtyard was the setting for our evenings when weather was warm and then a beautiful open fire inside the dining room when the weather was cooler. I'm so grateful for the experience of Hotel Sainte Valiere."
2015 Residents
Vardos – July 2015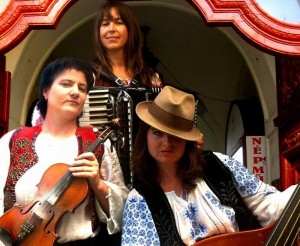 "In 2015 Vardos were invited to undertake a small residency at Hotel Sainte Valiere in France. Being in Sainte Valiere allowed us the chance to absorb and practice the music we had just been studying  in Eastern Europe, culminating in us performing at a very successful opening night to which the village was invited. In a beautiful calm and quiet mansion with its own lift, ensuites for every room, just a few dozen metres away from the local shop providing fresh fruit and croissants, we were also walking distance from vineyards and inspiring Provencal landscapes. Crystal clear swimming ponds are not far away, and larger towns such as Carcassonne and Narbonne are also close by. As a writer I was inspired by the history of the house and its occupants, to write the short story, The Cave of Dr Cayla, and also to make some sketches. It was valuable to meet and find out more about the locals some of whom had insights into the history of the house and its occupants which informed upon my writing."
Sofia Chapman of Vardos
http://vardos.com.au/
Sofia's story The Cave of Dr Cayla appeared in Gargouille Literary Journal and can be found here:
http://www.gargouille.com.au/store/
The Sugar Fed Leopards – September 2015
"Eloise and Cleo greeted us after a long scenic drive to the small South Western town of Sainte Valière. We felt welcomed as we sat in the quiet courtyard and were seized by the simple romance of life there. Water, wine, cheese and dinner to muse over, Dave chopping some garlic, Carrie chasing Cleo and the rest beginning to take bags up the big staircase and settle in. The kitchen is expansive and inviting, I just wanted to cook, often and for many people. It would be the place where we shared the rich flavours of the region and talked about which disco music we really liked.
The house is 3 stories of bright rooms with luxuriously big bathrooms, each room has speaks of an ideal lifestyle with a view that is completely transporting. Throw open the windows to let a breeze sweep aside the thin curtains and you can feel the village is so close but it is quiet and still in it's worn stone. We were able to spend the days relaxing in the informal atmosphere, reading for long hours, writing a handful of melodies, including the bands favorite hit 'Golden Apricots, castles in the sky' and visiting nearby towns for long lunches. We watched tourists move down the canal in different shaped vessels with different holiday agendas. We strolled by an orchard and snoozed under some big maple trees…
…The house exuded all the glory and mystery of another time. The warm colours of the region and the superb light linger on and I recommend a stay at Sainte Valière to anyone, whatever reason you can find to become familiar with this part of the world, would be good. Eloise is accommodating and hospitable and it would be a worthy exchange to share some of this style of life with her wonderful family. One day I will stay a year and write a novel."
Steph Brett of the Sugar Fed Leopards
To read Steph's full testimonial click here
http://www.sugarfedleopards.com/