More about residencies
The residency
The purpose of our residency is to allow you to fully concentrate on your work, at the rhythm which suits you best. It is ideally suited to writing, drawing, painting, dreaming, researching, exploring and thinking. We have set up the residency to allow perfect autonomy during the day. If you have chosen for us to prepare breakfast and lunch for you, you take it in your own time. We come together for the evening meal, which aside from being delicious is an excellent moment of exchange, conversation, and unwinding.
The house

The house has three stories. On the ground floor are two living rooms, a large kitchen and the gardens and terrace. On the first floor are the three resident's rooms, each with a double bed, large workspace, views onto the village or the garden, and a private bathroom. On the top floor are your hosts' rooms, and a library with views out over the rooftops. Residents are free to work in the downstairs living rooms and upstairs library should they wish to do so. The house accommodates three to five residents at a time.
Getting about
There are many short walks around the village that you can do on foot. Longer walks (3-4k) will take you to neighbouring villages and their cafes, and the Canal du Midi. There are lovely wild river swim spots around 6k away. We provide an automatic car, a Peugeot 205, for your use, and propose a limited liability insurance which we recommend for longer trips. Petrol is your responsibility. We also have bicycles and maps at your disposition, and recommendations for good restaurants, markets, towns, sites and swim spots to visit. A bus will take you into Narbonne twice a day, and from Narbonne the rail system will take you anywhere you wish to go. We pick you up from Narbonne station when you arrive and drop you off there upon departure.
Partners/Children
Should you wish to bring a partner or children please contact us and we will decide on a case by case basis.
Meals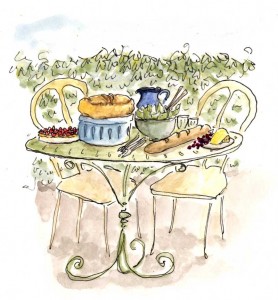 If you have chosen to receive full board, fresh croissants, baguettes, juices and fruit will be prepared for breakfast, fresh produce will be made available for lunch, and we come together for the evening meal. You can opt for part-board (evening meal only). There is a grocery store in the village with fresh bread in the mornings, a supermarket not far away,  a resident's pantry to store your food, and a car at your disposal for shopping. Please let us know in advance of any special dietary requirements.

Prices
breakfast    5 €  

lunch         12

€

dinner       18

€
Presentation
Should you wish to stage a public presentation of your work in the house, we will gladly organise this, contact the local press, and publicise the event on our website and social media. Presentation may well be to a smallish – but enthusiastic! – public, given the village context.
Fees

2019
 350 €  

per person per week
The residency fees include accommodation, electricity, water, high speed internet connection, telephone (except calls to overseas mobile phones), firewood, use of the house, garden, bicycles, car and communal facilities. Residents are expected to leave the communal living spaces as they found them, and you are responsible for the house-keeping of your own room. Should you wish to present your work, the time we devote to this is also included.
Fees

 2020
 400 €  

per person per week
To apply
We are now accepting applications for the May, June, September and October residencies 2019. 
To apply, send a brief description of your project and the dates you would like to attend to Eloise at info@hotelsaintevaliere.com.
Support
Although we cannot currently provide grants, we are happy to provide official documents and letters of invitation for artists wishing to find third-party grant support or other funding for a residency. Over time, we are working on creating funded residency opportunities.  We are also very happy to discuss your specific project requirements with you and will do our best to accommodate your needs, so do not hesitate to contact us in this regard.